"In 49 states it's just basketball, but this is Indiana." This quote familiar to most Hoosiers conveys how much the sport means to Indiana and how much Indiana means to the sport. Although Dr. James A. Naismith created basketball at the Springfield, Massachusetts YMCA in December 1891, Indiana is where high school basketball was born. It was Dr. Naismith himself, who in 1925 after attending an Indiana basketball state finals game, wrote: "Basketball really had its origin in Indiana, which remains the center of the sport."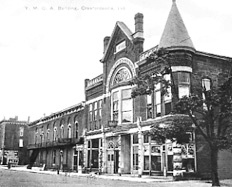 Records indicate that in 1893 the Presbyterian pastor Rev. Nicholas Craig McKay (1860-1938), an associate of Dr. James Naismith in Springfield, became the general secretary of the YMCA in Crawfordsville. McKay brought with him the skills to operate the YMCA, but more importantly he brought to Indiana the game of basketball. So it was from its beginnings in Crawfordsville that the game took off in popularity with players from Crawfordsville spreading the word about the new game to nearby communities.
On March 16, 1894, the first game played outside of Massachusetts between two different towns was played between the Crawfordsville YMCA and the Lafayette YMCA, which Crawfordsville won 45 -21. On Feb. 19, 1897, Wabash College played Purdue University at the old Crawfordsville YMCA in the first official intercollegiate basketball game.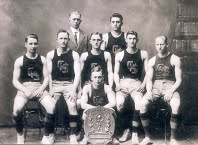 By 1911, Indiana had a state high school basketball tournament, which Crawfordsville won. The game continued to grow in popularity and by the 1920s and 1930s, basketball had spread throughout the state.
After his ordination in 1894, McKay left his YMCA position to pursue congregational ministry with several congregations in California where he remained until his death.
Adapted from an article by Heath, Jaryt, and Gary Hunziker with additional information provided by William D. Stieg